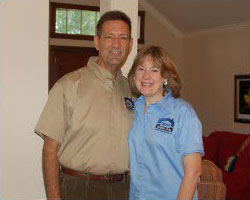 Paul and Sharon Ragsdale are uniquely qualified and gifted in the care of the elderly.
Sharon is an RN and a Certified Wound, Ostomy, Continence Nurse with a Master of Science Degree in Nursing Education.
Paul is a qualified Assisted Living Manager and a former Baylor College of Medicine retinal photographer.
Together, they work as a team to provide the most cost-effective, quality alternative to institutional senior living.
"I love your place…the residents are so well taken care of and loved by your caregivers. It's always a pleasure to come there."
– Dr. Marion Anthon, podiatrist
Reviews
Two Very Different Residential Care Homes
By Kathryn Watson
I visited two very different Residential Care Homes in Cypress, Texas this week.
Let me tell you what I saw. The first home was neat and tidy on the outside of the home. As I entered the first thing I saw was two smiling faces looking at me. They were two elderly residents sitting at a table anticipating an activity that was getting ready to begin. They were both clean and had their hair brushed. Their eyes were clear and bright and we had a short conversation. Read more
"Through their God-given talents, Paul and Sharon provide elder care in a Christian environment that meets both physical and spiritual needs, which is greatly needed in our community."
— Don Lee, Pastoral Care Minister